Music Shuffle: Red Velvet playlist on Spotify
On January 29th 2017, my 6 month internship at Wellington Management Company ended.
On January 31st 2017, I graduated from the Year Up Greater Boston program.
My graduation from Year Up was an accomplishment and experience that I would've never asked for nor could've asked for.
In my last in dept personal update I went into detail about the program and my time there. So if anyone is interested in that, it's one of the last 2 or 3 posts. From now on I will talk about my last day at Wellington and then the graduation itself.
On January 29th, my mentor took me to lunch at a place next to the office called Trade.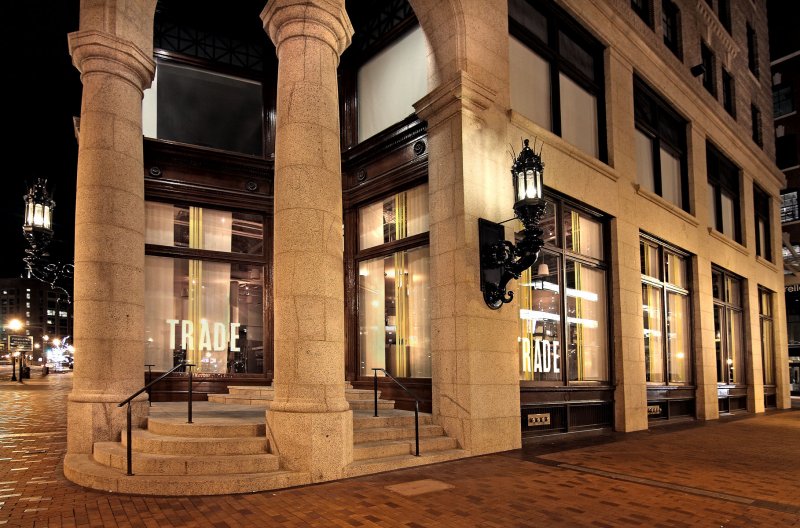 My seared salmon
Salmon was delicious but why the huge plate?!?!
He had the burger and fries special while I had the seared salmon (he informed me about the lunch plan a few days prior so I had a chance to look at the menu and see if there's anything I needed to avoid as I have a very sensitive tongue and stomach).
It was a simple lunch. Mostly chatting about my experience at Wellington, what I'll be doing afterward and everything in between. He told me about his work experiences and all that he has learned throughout his professional experiences. I truly couldn't have asked for anyone better then him to be my mentor. Full of energy, passion, curse words and a fancy for knowledge (and wanting to toss PCs of the roof.....Shhhh! that's a secret. Hehe). I'm starting to get emotional while writing this. My team, Trading FI Desktop Support, the EQ desktop support team and the CTS lab members, and everyone else I have encountered, from the bottom of my heart: Thank you and my prayers are with you for your continued success wherever you are or may go.
P.S the some of the lab members wanted me to smack one of my teammates with a loaf of bread and I almost went through with it. I bailed at the last minute. Here's what "K" (and possibly other lab members) left for me:
Hahahahahahahahaha!! I had a good laugh when I came back to this.
Now unto the graduation.
Music Shuffle: B.A.P Album shuffle
Date: January 31st, 2017
Time: nearing 4 pm
Location: On route to Graduation location
Weather: ............FREAKING COLD!!!!
So, yea, it was freaking cold!!
No snow!
Just so damn cold!!
It was a lovely time though.
The service commemorated a fellow student who passed away during the Learning and development tenure in a vehicular accident. The service lasted around an hour and a half. The speakers were a highlight as all who spoke embodied the message of what Year Up is and what they continue to grow into.
One of the speakers left an impression on me.
The speaker was Tito Jackson, District 7 Boston City Council. He shared his life story that was filled with heartbreak, distrust, hopelessness and so much more. He told the audience "your condition is not your conclusion". That moment was awe-inspiring. This man went through so much but he never let it define him. He rose up and fought to where he is now. He has hope and I believe that he imparted that with the audience.
There were many awards presented and I was one of the recipients. I knew I was getting one but was never told for what exactly so it was a pleasant surprise when they read the title and description of the award and then my name followed. And a bit later the diplomas were distributed.
After that was basically chatting, picture taking, and goofing off for a bit before it was time to part ways.
At this point I am now currently job searching. It's a challenging and fun process but I have put everything in the Lord's hands. He has brought me this far and I know He's not going to abandon me anytime soon if ever.
I hope that this was clear and cohesive.
My life is just starting and I can't wait to see what's in store.
Till the next one.
God bless!!
Chibi J